The design of Windows 10 has been a mess from the start. Since then it only gotten worse to the point that it now feels like we have 3 designs in 1 OS. But there may be light on the horizon with the Windows Sun Valley project….
History of Windows 10 Design
Windows 10 entered the beta phase as windows 8 with a 2 part start menu. Windows 7 start menu on the left and Windows 8 on the right. As time moved on we saw a new taskbar and a few tweaked icons. By the time it released it felt like Windows 7 and Windows 8 have merged together. On the one hand you had all the new modern ui apps like mail, groove music and Edge. But on the other hand you had programs like file explore and paint that felt more windows 7 like.
We even got a new Settings app while to this day we also got the old control panel. While the settings app is getting more important with every update when more control panel features are ported to the new settings app the old control panel is still here. Things got even worse with the introduction of the Fluent Design in 2017. The design itself looks really good but instead of 1 big update to let all apps adopt the new design they updated part by part. In early 2020 they also started to make new icons. Now we have paint with a windows 7 icon. Settings with a Windows 8 Icon and Mail now got a fluent design icon. Same problem with the overal UI. In short Windows 10's design is a mess that needs a cleanup.
Windows Sun Valley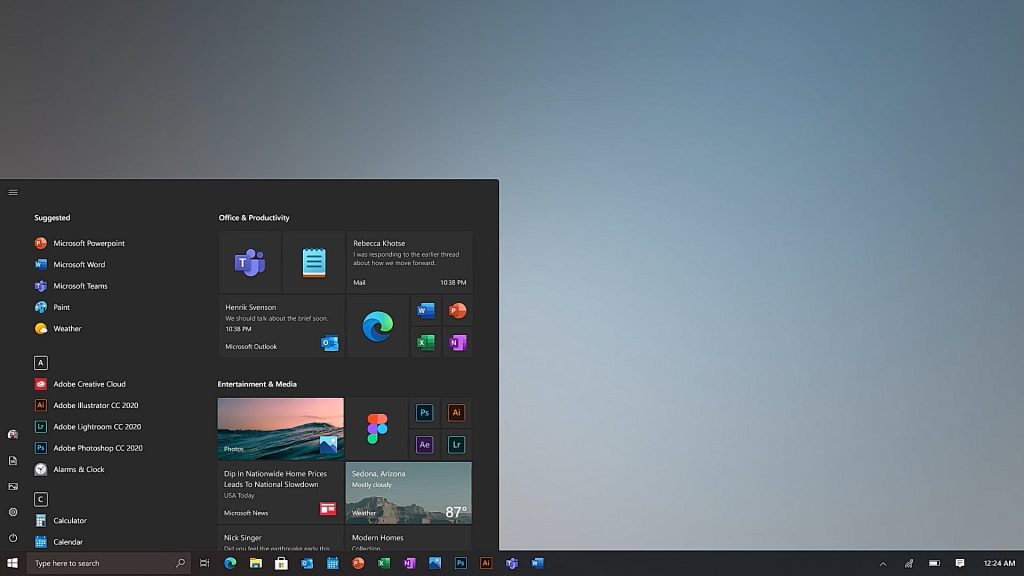 Project Windows Sun Valley could change all this. Sun Valley is a big design update that will likely come to Windows 10 at the end of 2021. But we already got a first taste of it back in October with the new start menu. This update will not only complete the Fluent Design transition but it will also bring back rounded corners that have been away since Windows 8. But very little is know what will come when as Microsoft still made no official announcement we only know it is a thing. The only thing that we know is that the update will overhaul the Start Menu, Notification area, File Explore and bring back rounded corners. The first Sun Valley features will soon be deployed to Insiders. For now we must hope that Microsoft does it right this time.