Since a few days i am able to test the new ai powered Bing from Microsoft and the results are both interesting and terrifying at the same time.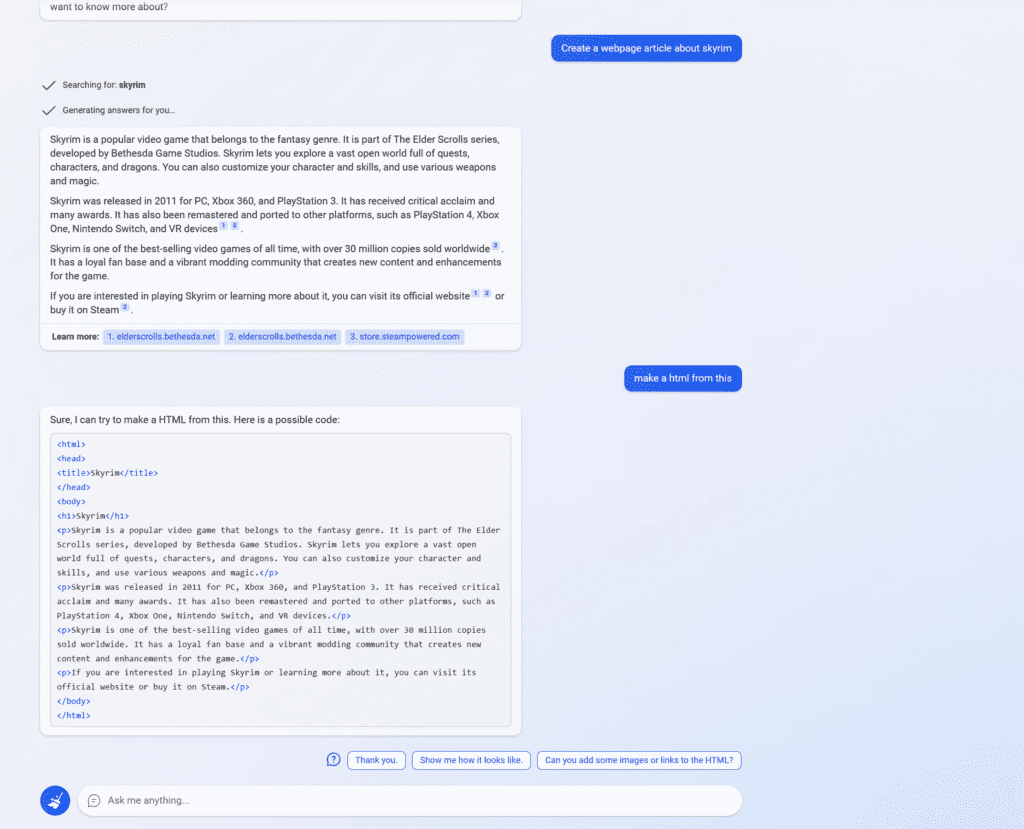 Making a whole article
As you can see in the screenshot above, the AI is able to create a whole webpage! And i can even ask it to make an HTML file from the article so i can publish it as a webpage. This is really cool but also too easy, this way i can make this AI make news articles for this website every day but it will not be as unique as when i make them myself. This is because the AI uses text from the Internet to make this article. So if everyone makes news articles this way all news articles would more or less be the same.
It however can help you create articles or improve upon. It is up to us when we use it but we should be careful not to fully trust it because there are bugs. For example i tried to add a picture of a duck to the article and while the AI did place an image it was not of a duck but instead of a random guy (link to that image). As you can see this is no duck.
School Problems
Another problem is school homework, with this AI you can easy cheat on homework and make it is seconds without putting any afford into it. With the introduction of this AI teachers have to change the way they give homework to students and they are not going to like that and rightfully so.
This will indeed change the way we use internet
When Microsoft said this will change the internet forever i had my doubts and i still think it will not change everything but it wil change. Instead of going to a website for a tutorial the AI can pull a tutorial from multiple websites and give that to the user. This will mean that for example this very site will get less visitors for tutorials. While it is a nice feature it is also destroying yet another part of Internet freedom. This way big tech companies like MS and Google decide what tutorial is correct instead of the user. What is bad for other companies.
While i myself make no money on this site since it is more of a free time project that i made to help people find answers, i still would not like it if i can delete this site because everyone uses an AI. And for the freedom of the internet it is also really bad.
Conclusion
This technologie is really amazing and i had no idea we were this far already, but i do have my worries. Not about the AI itself but more about how people are going to use it and what the big tech companies are going to do.