With this weeks release of patch 9.2.5 a new contract has been added to World of Warcraft. And in my opinion this is a good move.
Social Contract
The social contract is something all players have to accept if they want to log in. The contract is about being nice to other players and don't ruin the game for others. This is good since there is a small but notable toxic group of people in WOW. We all have engaged with them one way or another, some call you a noob others leave a M+ dungeon just before the last boss and in some rare cases you even get messages like "You should die" or something. These things make some players stop playing the game at all or at least avoid some content. If this contract will change things remains to be seen but it at least makes it easier for Blizzard to ban people. In addition to this there is also a new report UI with more options. You can now at last report people who hinder progress (M+ leavers). And as a gaming community we should make use of these options to ensure the game is fun to play for everyone. Because there is a difference between helpen someone to get better with giving them feedback and telling unexperienced players that they should die.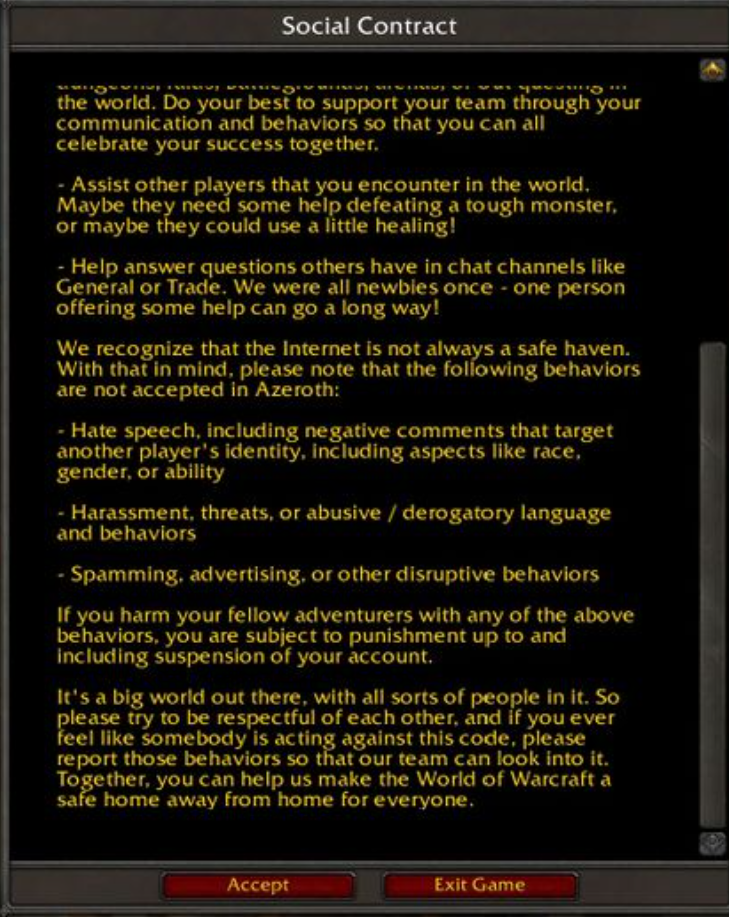 Not everyone is happy
Some people are not happy with this. Stating that Blizzard has no clean hands in this, what to some degree is true since we know what happend to some female workers in the past. But that does not matter in this. I think most people who are against this are the people who are toxic themselves. So they either have to behave for once or they should stop playing WOW.