In Minecraft Seasons:Winter almost all blocks are covered in snow with this texture pack.
It doesn't matter or you are in a Desert, Jungle or Plains it will always be snowy.
As for the villagers, they will adept to the cold in their own way. And so will the animals and Monsters.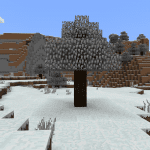 Minecraft Seasons: Winter
Version: 2.0.1
Minecraft: Bedrock Edition 1.12
Texture Size: 16×16
Last Updated October 1 2019
Released: March 21 2019
Made by: Nuanet
Patch Notes
Patch 2.0.1 October 1 2019
Updated to Minecraft 1.12.
Panda's look like Polar bears.
Villagers now wearing cold weather clothing.
Trees now have more snow on them
Bug Fixes.